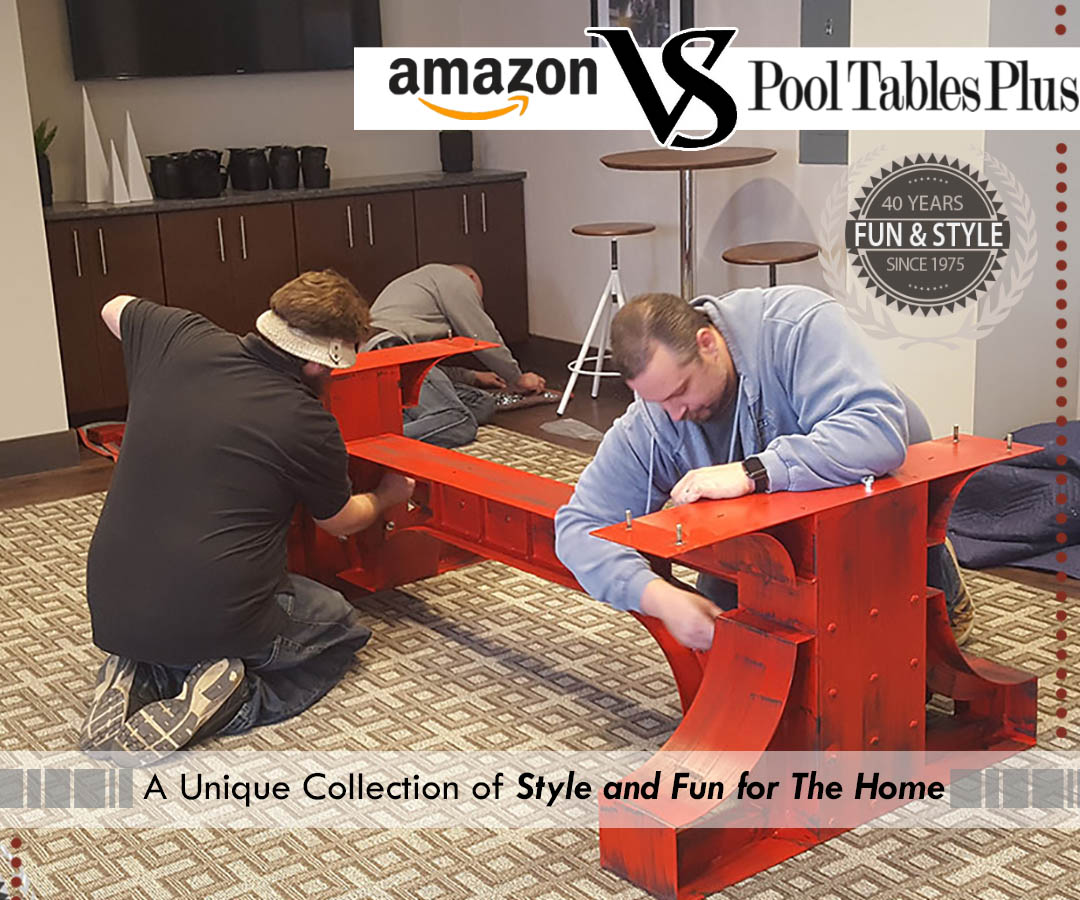 Amazon "The Goliath" is certainly a simple, fast, and convenient way to purchase anything. Literally anything. Many of these items are small and delivered right to your front door within days. In addition to this convenience, most of these products are easy to returnif they do not meet your expectations.
On the other hand, 'Large Game Tables' (we'll use a pool table for this example) are costly and time consuming to order from Amazon. Pool Tables are very costly to deliver, move, set up and in most cases – impossible to return if you're not satisfied. Large gaming tables "pool tables, shuffleboards etc." are delivered by a tractor trailer and simply dropped off on your driveway. You are responsible for: arranging to be home within a four hour delivery window, for carrying the pool table inside, and sorting out the installation options. The installation instructions are often complicated, difficult, and nearly impossible. Paying Amazon for installation is an option, but, often times this tends to make matters worse. You must take more time to contact the correct individuals and arrange a day for the installation of your pool table. In addition, you must be home for another day during the installation process and you are responsible for the disposal of the packaging materials. If you're are not happy with the installation, who are you to call… Amazon? The third party from whom you purchased the pool table? Or, the "local pro" who installed the table? If you're truly dissatisfied and decide to return the item(s), there are a number of conditions that must be met:
The pool table must be in original cartons (good luck finding all the original cartons).
You are responsible for the complete disassembly of the pool table.
You are responsible to put the pool table on a skid for return.
You are responsible for the cost of freight (most likely $400+).
There is a 30% or more re-stocking fee if the pool table is not in its original condition.
Before you hit the "Add To Cart" button on Amazon –did you read all the fine print? Will an adult be home to sign for the delivery? Is the adult(s) capable of carrying a pool table into the house? Did you consider the added time, money,and aggravation to arrange the installation of your pool table? Did you consider the added expense to get the pool table from your garage into your basement? Have you considered what you will do if pool table does not fit down the basement stairs? Who will you call if you find a problem with the installation? How will the problem get resolved, or will you simply have to live the issues?
Amazon offers a wonderful online convenience for small simple items that you want or need shipped directly to your door. When it comes to larger items, such as "game tables, pool tables, air hockey, shuffleboard tables etc", in which you will be spending a larger portion of your disposable income; don't expect there to be any easy solutions offered to ordering such a complicated system from an online retailer. Basically, case and point, Pool Tables Plus offers a much better solution than buying on Amazon.com.
Pool Tables Plus has an industry advantage in providing all customers with high quality products, backed by complete, professional service(s) from start to finish – with only your utmost satisfaction in mind!
Pool Tables Plus "The David" specializes in quality pool tables and game tables including: shuffleboard, ping pong, poker, foosball, air hockey, and more. Our organization is able to guarantee your complete satisfaction with each and every product purchased and installation. The pricing options at Pool Tables Plus match what you will find on Amazon.com, and our installation is a much better value. Our own in-house technicians are experts with installing and servicing our pool tables and game tables. The Pool Tables Plus installation fee is less than what you will find on Amazon, and if there is ever any problems – you can have the confidence in knowing that Pool Tables Plus stands behind the quality of their products and the professionalism with which they are installed. We clean up and remove all boxes and packing materials and guarantee your complete satisfaction. Pool Tables Plus will install your game table in your basement, a second floor, or the 42nd floor of a New York City apartment. There are two Pool Tables Plus showrooms In Green Brook & Paramus, New Jersey where you can see, touch, and try out the actual products before honing in on a purchase decision. Amazon is an enormous organization and they are very far from being a customer oriented, focused, and actually caring about an individual's purchase. At Pool Tables Plus we are focused on ensuring that each and every customer's experience is as enjoyable, easy-going, convenient, and accommodating as possible.
The bottom line is that, purchasing a large, heavy, game table from Amazon requires a lot more of your time and resources than you originally may have thought. You must move the game table into your home under your own power. You will then end up paying even more money to have it moved to another room or basement, and your time is then required if you purchase installation by a "local pro" who will most likely be unfamiliar with your specific game table. They may need to come back to your home two or three more times after initial installation to resolve any issues. There are so many horror stories regarding installation by a "local pro". Who do you call after the game table is installed and you are not happy with the installation or the performance of the game table? Once it is installed and you discover that the product is of low quality, poorly made, basically, "a piece of junk" – who do you call… and is there a process for returning the unit? What do you do if you find that the unit does not fit down the basement stairs or through a tight doorway? If you want to return the game table, but have around disposed of the packaging, how would you proceed, since you really can't? Many customers know that being abandoned after a purchase decision with no solution in regard to fixing a problem is not fun.
So, why take a chance? At Pool Tables Plus you will find higher quality products, all-around better – more focused professional services, affordable pricing for every budget, and the reassured confidence in finding the perfect game table to accommodate any lifestyle — all within a friendly neighborhood showroom.