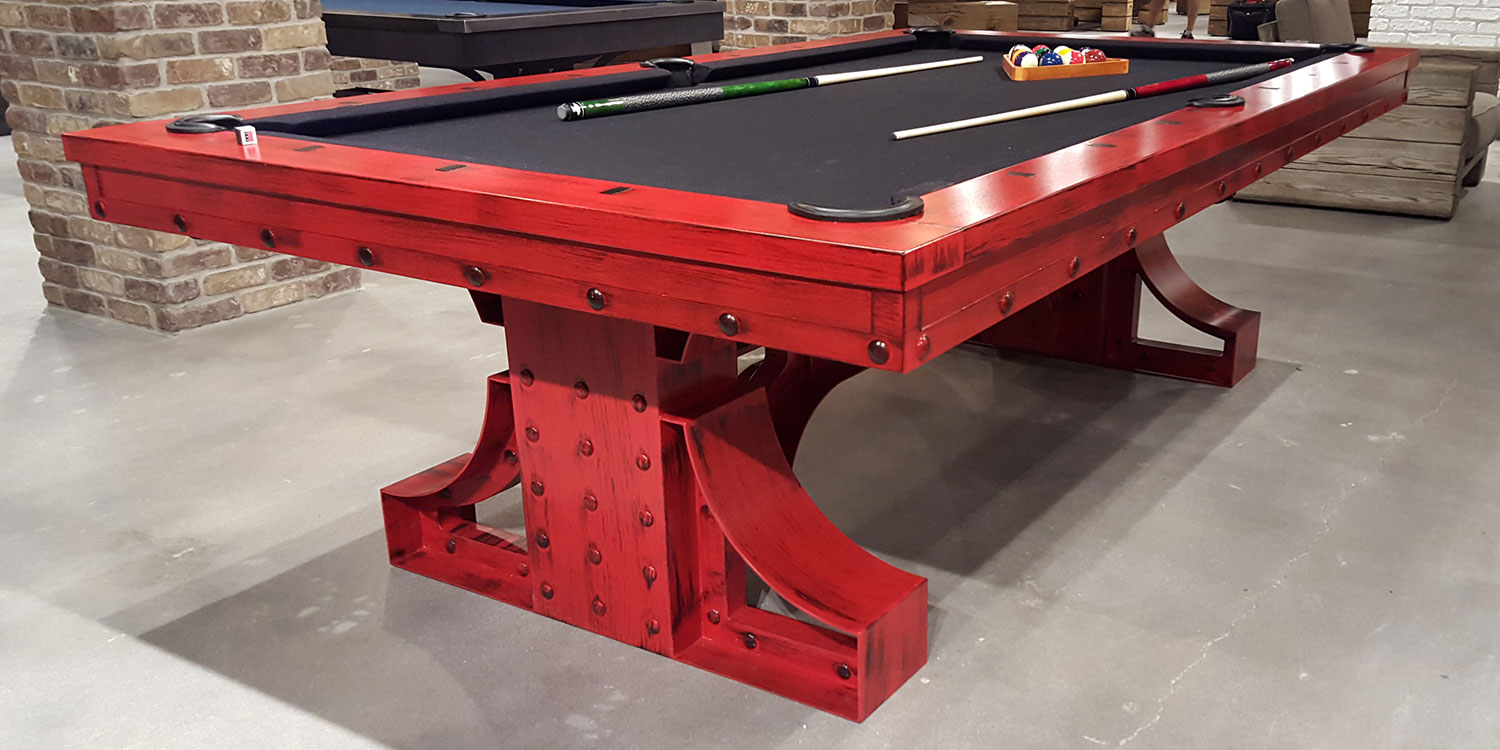 #1 – Our Pool Tables are Solid Wood
Many companies claim that their pool tables are "all wood" or "100% wood"; but these are composite woods and are not the same quality as solid wood construction. It is a known fact that slow growth American hardwoods such as Oak, Maple, Cherry and Walnut are superior to fake wood such as veneer over MDF, Russian maple, Chinese birch (also known as rubberwood).  Many companies make their pool table bodies from MDF (Medium Density Fiberboard which is sawdust glued together under pressure). A very thin layer of decorative veneer is laminated to both of the MDF to give it the appearance of solid wood. Many of the manufactures have perfected the art of routing carved lines through the veneer and coloring the MDF to match the finish. It can be very hard for you, the consumer, to see the difference, but over time you will!
Although it can be argued that MDF can technically be called solid wood (since sawdust is technically wood), it definitely does not support the weight of slate and over time sags and deforms. Slow grown American hardwoods are vastly superior to the Russian maple, Chinese birch and rubber wood used on almost all of imported pool tables.
The quality difference of solid wood construction versus "all wood" or "100% wood" holds true throughout the furniture industry, not just for pool tables. So, this is a key point to keep in mind when doing any furniture shopping.
#2 – Pool Tables Made in America
"Made in America" is a term that is used rather loosely in the billiard industry. Some companies claim that their tables are "Built in the U.S.A." because the pool table is built in your home (which after all is in located in the U.S.A.).
For example, a popular American-based pool table company claims their pool tables are made in America when in fact 99% of the pool table's parts are manufactured in Malaysia and China. These parts are tightly packed into containers and shipped from overseas to a distribution point in Cleveland, Ohio where they sit in a warehouse until they are ready to be assembled into a pool table. Nevertheless, this company maintains they have the legal right to claim that their tables are "Made in America" because the imported parts are assembled in Ohio. In fact, this brand is sold on the Internet, in many patio and swimming pool stores and at some major retail chains under the claim that they are "Made in America."
There are less than a handful of pool table companies that actually manufacture pool tables in the U.S.A. These American manufacturers do not sell direct to consumer or allow their pool tables to be sold on the internet. One rule of thumb is that if the table is sold online, the chance is very high that it is made overseas. So, when shopping online or in a store, ask about the country of origin for the parts used to make the pool table.
#3 – Lifetime Warranty
While most of our pool tables are covered by a lifetime warranty, many companies make this statement to give you a sense of buyer confidence. Certain warranties are only valid if the manufacturer and/or Internet-based retailer remains in business! The fact is that many manufacturers, especially the import and Internet-based companies go out of business every 1 to 3 years.
Very few companies guarantee their rubber cushions because they use a type of rubber that is known to break down and is very expensive to replace. Most companies will not even warranty their pool tables to ensure level play because it is impossible to level a poorly designed pool table. Costco.com for example has the following disclaimer on American Heritage Pool Tables *Warranty does not include re-leveling of the billiard table.
Since we deliver and install all of our pool tables with our own professionally trained employees, we guarantee that the balls will roll straight!
#4 – Free Delivery
Free Delivery is a claim that is always made by internet retailers to make you feel that you are getting a good deal. Free delivery works well for small packages but is a total disaster when delivering large heavy game tables. You may have had good experiences with getting small packages delivered via UPS or FED-EX. Unfortunately, UPS and FED-EX do not ship large items such as pool tables and game tables, these items must be shipped via conventional freight companies.
For example, many large game tables are delivered to your home with FREE curbside DELIVERY. The keyword here is: "curbside." If it is used in connection with "delivery," it means a large tractor-trailer will park on the road in front of your house between the hours of 9:00a.m. and 4:00 p.m.  The truck driver then will move your package to the back of the trailer and, from this point on, YOU are responsible for getting it off the truck and into your home!
Here is a short list of things you must do when you purchase an item that includes "FREE curbside DELIVERY".
Get onto the back of truck to inspect and sign that the game table is in good condition.
Find someone to help you lift and carry the game table from the back of a truck to the ground (careful…if you break it you own it!) and carry it into your house. The truck driver is not responsible to lower it to the ground and cannot due to the company's policies.
You have 48 hours to take the table out of the box and inspect all components for any damage. You cannot file a freight claim after 48 hours of receiving goods.
If you find damage, you must file a freight claim and wait up to two weeks for an inspector to come to your house to document the damage.
You must negotiate with the freight insurance company to make good for the damage which can take up to 9 months. Unfortunately, you rarely receive the true value and you never get paid for all of your time waiting, calling and emailing.
You must now wait for the replacement part to be shipped and hope that it arrives in good condition (perhaps another day off from work and hope it's not damaged this time).
In addition to FREE curbside DELIVERY, most online companies will offer different levels of "service." For example, you can purchase lift-gate delivery for $150.00 extra, whereby the game table will be lowered to the ground but you are still responsible to carry it into your home. Be sure to check the cost of these service levels (up to $600) and learn whether they will be performed by a billiard specialist or not.
Unfortunately, your issue may never get worked out to your satisfaction and you can be left with an inferior product because it costs too much money to return it under the terms and conditions of the specific return policy. In fact, depending upon the fine print of your delivery terms, it often costs more to return the defective merchandise than the original cost.
#5 – 100% Gum Rubber Cushions
All billiard companies claim to use 100% pure gum rubber cushions. These companies neglect to tell you that their 100% gum rubber cushions are made in China and can also contain up to 25% fillers made from clay and silica. Unfortunately, the extra fillers cause the gum rubber to break down in as little as two years. These rubber cushions are susceptible to heat, cold, UV light and humidity. They have a life expectancy of as little as 3 to 5 years. Most companies have come up with new terms to make their cushions seem superior such as "CONTROL FABRIC" and "RELIEF CUT or SUPER SPEED".
Rubber cushions are always excluded from their warranty because they know from experience that their cushions do not last all that long and the labor cost to replace them is very expensive (often $300 to replace the cushions and you cannot re-use the billiard felt).
Olhausen Billiards is the only company to offer a lifetime warranty on their AccuFast cushions.  Their rubber cushions are made in the U.S.A. exclusively for Olhausen Billiards. They have produced over 50,000 sets of rubber with no warranty claims.
#6 – It's on SALE!
Many online and local companies show you a fancy looking pool table with an MSRP (manufacturer's suggested retail price) of $4,895.00 and a special Internet price of only $1,895.00. Wow! What a deal! It sounds too good to be true…and it usually is. Unfortunately, unless you can find the identical pool table elsewhere at the MSRP price, you will never know if it's truly "ON SALE".
Your best bet is to purchase your pool table from a local reputable billiard specialist who can stand behind the product and warranty.
#7 – Professionally Installed
Before you buy a pool table, take into consideration some of the qualities mentioned above, such as solid wood vs. MDF particleboard, warranty, delivery details and origin of parts. A pool table is not only a beautiful piece of furniture, but a precision piece of equipment. A pool table plays well only when properly installed by professionally trained delivery staffs who are employees of the company from which you are buying your table.
If you think a subcontractor or delivery staff from a company that sells everything from swimming pools to home appliances, will take the time to properly install your pool table… think again!  Most of the time, you will be disappointed. Most pool table warranties are only valid when installed by a certified dealer who can visit your home to inspect and fix the problem. A subcontractor cannot give you the same level of support as a certified dealer who has their own in-house factory trained installation technicians. Do you really think the subcontractor will return to your home to fix the level on your pool table or billiard fabric that is not properly stretched or poor workmanship?
All of our pool tables are professionally installed by billiard technicians who are actual employees of Pool Tables Plus. They are highly trained and have built hundreds if not thousands of pool tables. We guarantee the levelness of all our pool tables and the quality of our work.
#8 – It's All In The "NAME"
If you have never heard of the brand name, it is because it may have recently been created to give you a sense of security. After all, if you haven't shopped for a pool table before, you probably can't name the top three billiard manufacturers and so a "made up" brand name with a nice story or catchy slogan can be misleading. Even if you have heard the name before, they may not be honest about their current manufacturing practices and are hoping you don't do your research.
For example, Brunswick Billiards uses the tag line "Authentic American" but we all know that their tables are made in China.  American Heritage Billiards fools us with their name but again we all know that their tables are also made in China.  Spencer Marston has an urban feel to it but again we know that their tables are made in China (and not very good quality).
Have you heard of the newest and best pool table line on the market today?  "Lindsey Jordan". Not really… I just made it up. Sounds like a nice name to me.
Bottom line is… Buyer Beware! Do your research and buy from a reputable local retailer who will stand behind the product and services.  Most of all have fun with your new pool table!