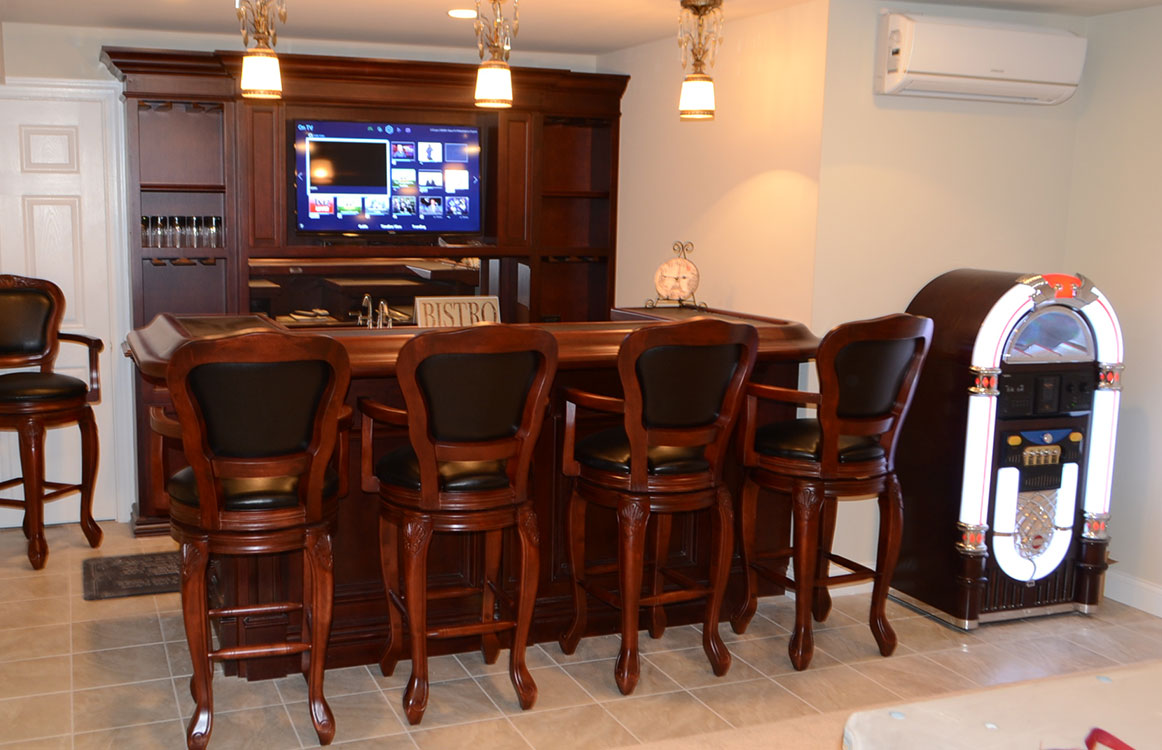 Whether you are looking for a bar stool to compliment your wet bar in the man cave, or you're trying to find the perfect set of stools for the kitchen island; there are many different things to take into account when choosing a barstool.  Everyone has their own style and comfort preferences when it comes to social seating, and different people will find that some bar stools are more suitable than others.  The purpose of this blog is to educate you on how to properly spot a quality bar stool that will function well in your space.
The very first thing to be aware of when searching for a bar stool, is to know what height is needed for your space.  Barstools typically come in two different heights; 24" and 30". A standard kitchen counter is 36", as it is the same height as common kitchen appliances, and is a perfect fit for a 24" stool. While standard bar height is 42" and is best fit by a 30" bar stool.
After confirming your appropriate stool height, you will need to decide whether you want arms on your stool or not. When considering a bar stool with arms, think about these factors: comfort, space, and whether you prefer a swivel stool.  Many will prefer a stool with arms because they find it more comfortable, but those stools with arms tend to take up quite a bit more space.  Therefore a bar stool with arms may not be an appropriate choice if you are working with limited space. If you prefer a stool that swivels you may be best served to go with an armless stool. Many granite counter tops have damaged the arms of nice swivel stools because of the arms repeatedly banging into the edge of the counter. Of course, if you have children this problem is more relevant.
When selecting a type of upholstery for the seat of the stool, your personal style will be a definite factor but some materials are better suited for specific situations. If the bar stools are going into a kitchen area, leather or vinyl materials are recommended as they are the easiest to clean. While microfibers provide a softer touch and are easier to clean than most other fabrics.
Now that you know what options to look for let's talk about how to spot a quality wood barstool. The most important structural aspect of wood stools are the joints where the footplate connects to the legs. The best made joints are doweled, pinned and glued to ensure maximum stability over a long period of time. Less expensive stools will be either glued or held together with a screw or bolt and will loosen after time causing problems down the road.  The type of material in the seat cushion is also important because it will determine if the cushion will retain its shape and initial firmness. Of course, the quality of the wood is not to be overlooked, and solid hardwoods will provide the best longevity.  Take a good look at the Darafeev bar stools and Design Master bar stools as they offer complete customization and superior quality and are built in the USA.
Metal bar stools are also available in kitchen counter height as well as bar height.  They too are available with or without arms and also as stationary or swivel.  Again the American made barstools offer superior quality and customization options and provide the choice of metal finish, fabrics and leathers.  Make sure the barstool is not one that is bolted together as these will not stand up to regular use.  The joints should all be welded to insure they will not come apart with regular use.  Take a good look at Elite manufacturing as well as Trica bar stools for the better quality.
Keep these pointers in mind when searching for the right bar stool.
Happy shopping!